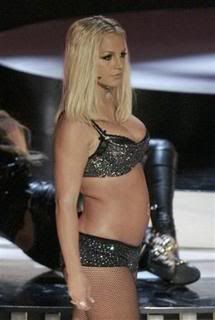 By now you've seen the footage of Britney Spears at the MTV Awards. A lot of people are laughing, saying she can't lip sync, can't dance and is too fat. But most of the comments are overly mean spirited.
As much as I like to make fun of rich overpaid drug addled celebrities like Britney,I think that it has become a major league sport to dwell on the failures of our bloated "stars". All too frequently it's the blonde young females that are the easy targets. Yeah , I'm no fun anymore. I guess you are officially considered an old fart when you prefer to monitor the criminals running our government rather than the bread and circus.
But even tho' Brit looked like a deer in headlights and shook like a bowl of Jello I think it took BIG BALLS for her to try to stay in the public eye after being
seen totally wasted in public for the last few years. And I'd like to see any of you reading this get up in front of the world half naked and try to sing, dance and remember words and moves to stupid songs.
It wasn't your best performance Britney. But I love you anyway.